Friday
Noon. Here we are in Pontarlier finally! beautiful weather. I take my room at the Grand Hôtel de la Poste (town center, just in front of the Absinthiades, definitely recommended!).
Lunch at the brasserie Le Grand Café Français, recommended too ! specially because its landlady, who bought the brasserie back in january, is highly sympathetic, she will specialize her brasserie, long term, in the absinthe domain with the help of some posters, fountains (she is the only one in Pontarlier who owns a Frenchman fountain available for customers), and a selection of absinthes.
Quick visit at the only antique shop in Pontarlier and by chance, he has for sale the only Pontarlier glass that you could find during the Absinthiades (we were all thinking of finding some during the collectors show, we were wrong). I have to buy it without hesitation as other collectors are ogling it.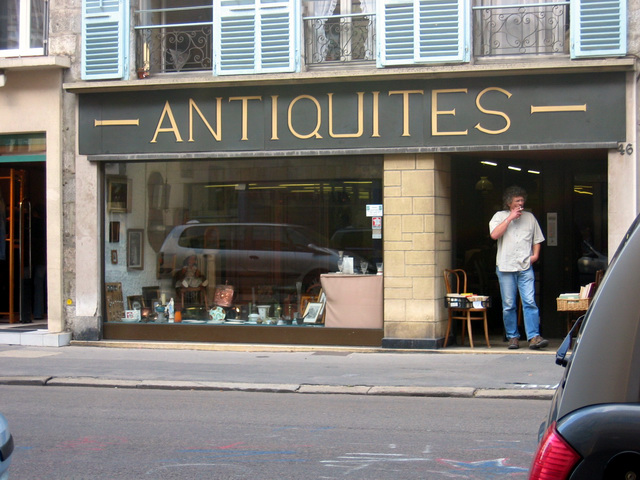 Afternoon. I meet Peter, and then Ted Breaux and Hartsmar inside the Les Fils d'Emile Pernot distillery where Peter has to label, number and seal 184 bottles of L'Artisanale, a very nice absinthe where the grand wormwood dominates (Eric's recipe, see picture of the label
here
).
The distillery :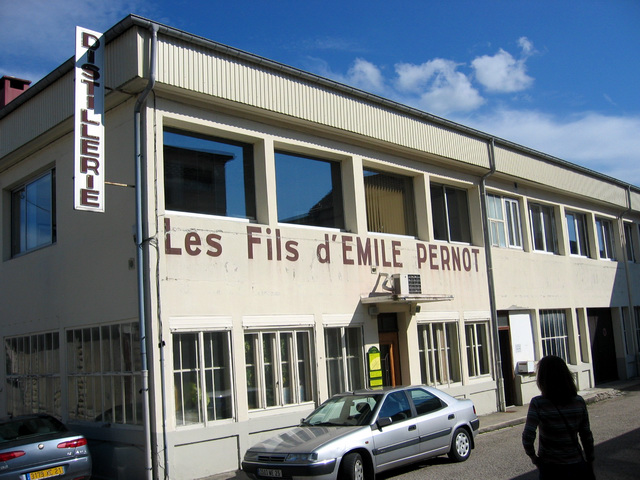 What is that dried herb with a silverish color?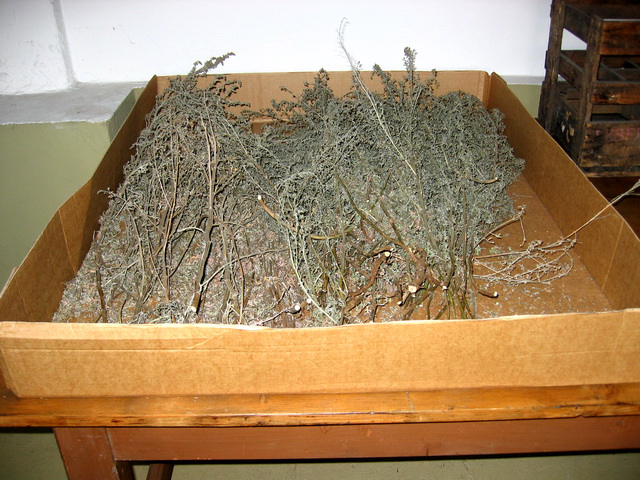 Ted, Peter & Hartsmar :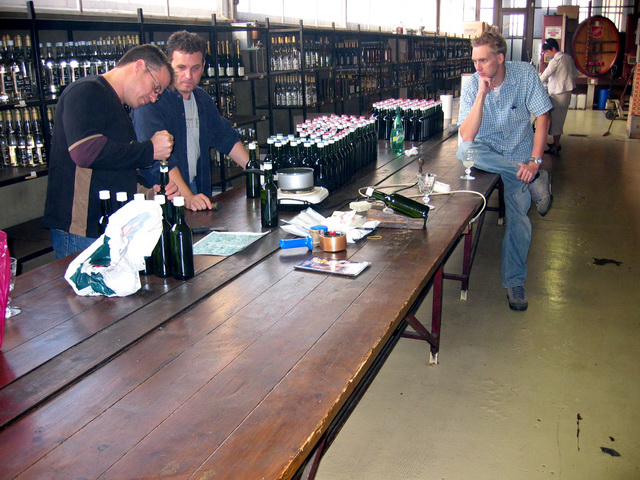 8.30pm : conference about the absinthe legislation in France and its prospective (and utopian) AOC, AOP or IGP. The presentations go on till the audience can start talking and asking questions, that's where Peter remarkably join in by asking what is the exact definition of absinthe? which recipe do they wish to use in case of a Pontarlier/Val De Travers AOC/AOP/IGP (Duplais, Fritsch, …)? How can we think about an AOC when we know that absinthe is made from herbs and alcohols coming from different regions, not only from the Doubs and the Val De Travers? what about the Saumur distillery? wide debate… specially when you know that one of the strongest AOC supporter is François Guy who is producing and defending a 45° absinthe (called "absinthe ordinaire" during the Belle Epoque). I will let Peter expand on that subjet as I'm sure he's got more to say.
Conference ends at 11pm leading us to the 'open' bar. A dozen of absinthes are waiting for us. I drink, in chronological order : Duplais, Maison Alandia and Absinthe Des Alpes 55° (why I wanted to try that one? I couldn't even finish my glass, that crap has no wormwood in it, just sugar, anis and water).