I posted this over at the WS today, and was asked to post it here as well, so here goes. (This is a follow-up to an earlier post that you find
here
if interested.)
In November last year I cracked open another of my bottles from the PF 1914 cache, and this time I chose the one with most green-looking content. I then realised that this was probably not one of the so-called "very green" bottles, although it showed a huge difference in colour compared to the amber content of the first bottle I opened.
(edit: seems this is one of them, after all.)
Like before, I measured the content for volume and alcohol strength. It turned out to be 872 ml (actually a little less than the first bottle) and – and here's the first big surprise – almost 71 % (!!). At first I didn't believe my alcoholmeter, but only some weeks ago I got that number verified (70.8 %, to be exact). How is this possible? The first bottle I opened was 64 %, which is something one would expect from a spirit bottled at 68 % after almost a century. But this I thought was just not reasonable.
Some pictures (my camera doesn't do the colours justice):
Colour comparison between the "green" PF 1914 and the first bottle I opened in 2006.
"Green" PF 1914 undiluted.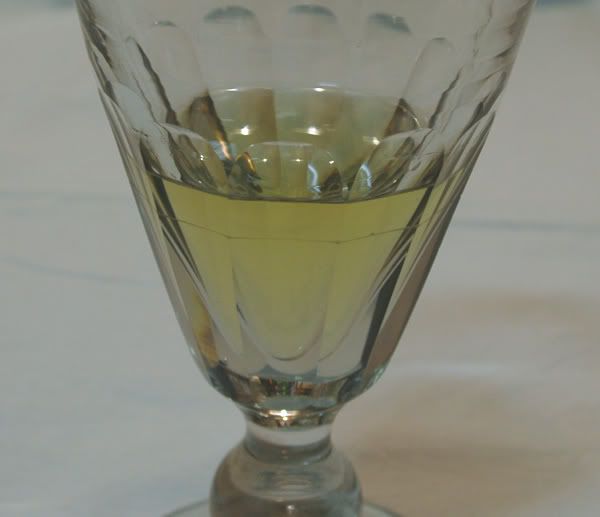 Louche building up slowly and enchantingly.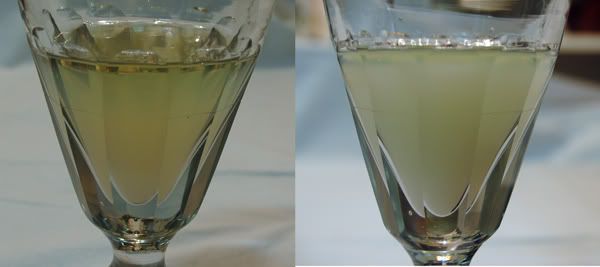 Divine. Yum.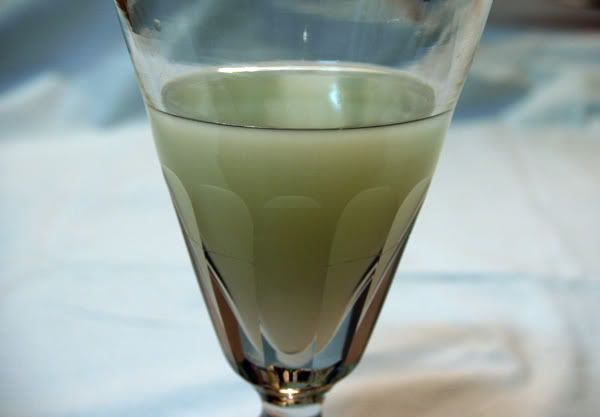 The scent and flavor of this absinthe is even better than that of the first bottle I opened. But I won't dive into a review of it here (everyone knows what people think of this nectar anyway); it will suffice to say that it tastes more fresh, or young, than the "regular" PF 1914. It is so flowery, so fresh and well preserved, that one easily imagines this is how a glass of Pernod Fils must have tasted during the Époque. Hence it's a most luxurious enjoyment.
The second big surprise appeared when I had emptied the bottle for measuring. In the bottom of the bottle, there was a clay-like layer of sediment that had a blue-green colour. It looked like the particular matter one can find within wine bottles after stationary storage for a longer time, only this had a more solid consistency. Rubbing it between my fingers, it felt just like fine clay. Tasting a wee bit of the substance, it also tasted like abrasive, like clay, or possibly old bottle wax.
Judging by the colour of it, I would say it
could
be wax. If so, how did that wax end up inside the bottle? (The wax used to seal these bottles is bright red, btw.)
I managed to stir it up with the last few drops in the bottle. It's just a few millilitres.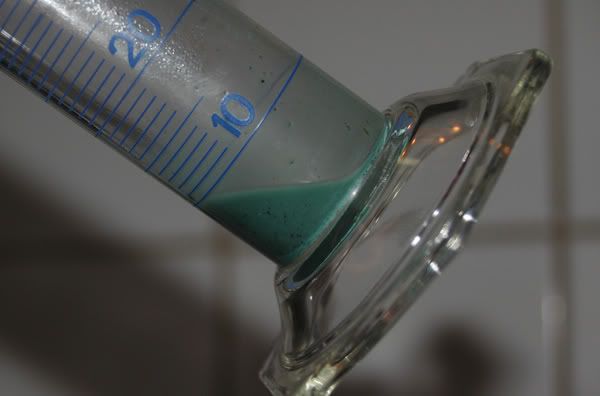 Most of it was suspended, but there was a few bigger lumps that wouldn't dissolve that easily.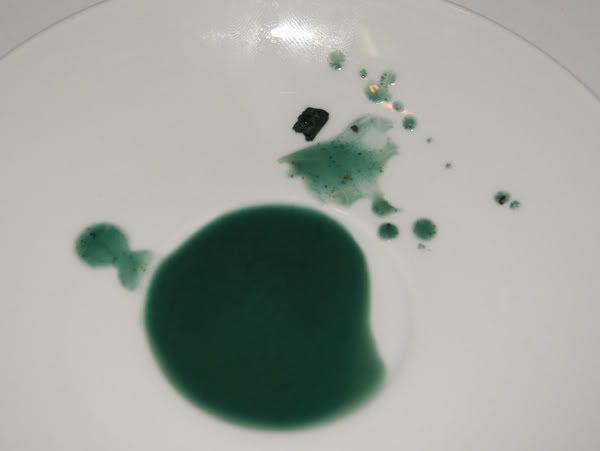 A good thing is that this peculiar clay-like substance hasn't affected the taste of the (otherwise totally clear) absinthe. But I have no idea what it is.*
I found this whole thing very interesting, and a little unexpected.
All of you who own one or more bottles from this cache – has anyone noticed anything like this in your bottles?
If you have measured the alcohol content, what are your results?
*
Or well, actually I do, and it was strengthened after a conversation with Oxy earlier today. But I'd better let him fill in from here…