I'm really pleased with this new find because 1) Edouard Pernod is my favorite pre-ban absinthe and 2) this bottle is from the Couvet distillery, not the Pontarlier one, which is very rare.
The bottle is shown empty on the pictures below because I quickly decanted it into smaller bottles, I explain why after.
The bottom shows several imperfections, proofs of a very old hand-blown bottle: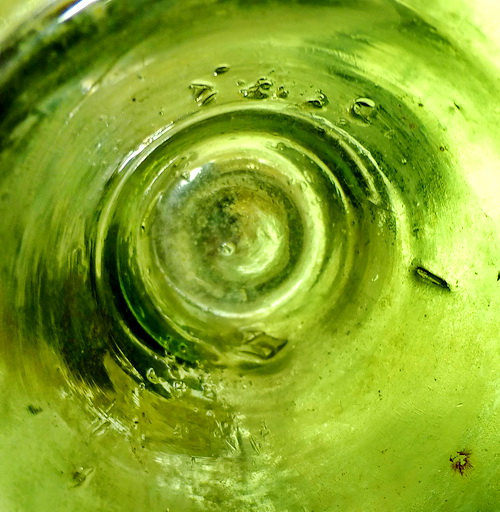 The nectar color: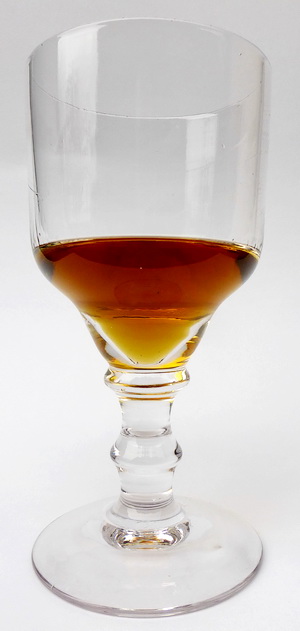 History:
The family of the man who found this bottle is from Switzerland. His great grandfather was a pharmacist in Neuchâtel and was passionated by herbs. Little anecdote: his passion for herbs allowed him to keep precious bottles after the ban, but it also drove him to refuse a partnership with a Swiss friend who wanted to start a new company specialized in milk drinks. He choose to stay with his herbs while his friend made a fortune, his name was Mr Nestlé…
The bottle was found in the family house, it was the very last bottle of absinthe from his father who died last year. It was found opened but very well preserved in a closet sheltered from light but not from humidity, hence the discolored label.
It was opened about 35 years ago and then re-corked with a T-cork and never opened again since. The T-cork was slightly sticked to the neck and showing signs of time, a bit thin and blackened.
While I was decanting the bottle, I measured the content: around 75cl out of 100cl, which is not bad for such an old - already opened - bottle.
I also measured the alcohol: around 60-65% (I can't be more precise because my alcoholmeter is not very good), which is an excellent news and a proof of a very good preserving.
Tasting notes will follow.